Judge Meenu Sasser Scholarship Fund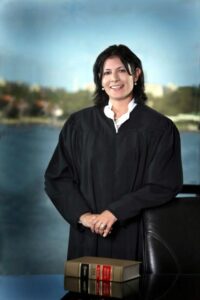 Meenu Talwar Sasser
NOVEMBER 5, 1970 – JULY 6, 2019
Born November 5, 1970 in Amritsar, India to Rajendra and Shukla (Mehra) Talwar, the oldest of two children, Judge Sasser grew up in Maryland and graduated from The College of William and Mary in 1992. She obtained her law degree from the University of Pennsylvania in 1995 and entered private practice with Gunster, Yoakley & Stewart, P.A., becoming a shareholder in 2002.
Judge Sasser was appointed as a Palm Beach County Circuit Court Judge in 2009, becoming Palm Beach County's first Asian American judge. She actively served on the bench until her death.
Judge Sasser had a passion for the law, the court system, and improving the lives of people in it. She was a highly regarded jurist, known for her leadership and efficiency in dealing with all cases that came before her. She received numerous local and statewide honors during her tenure on the bench. Judge Sasser was known for her dedication to improving processes within the judicial system through innovation, and for her work in this area the NYU School of Law Civil Jury Project honored her as Most Innovative Jurist of the Year nationally in 2018. She was a tireless advocate for the advancement of women and minorities in the law and was a mentor to many lawyers and judges. She was committed to improving the legal system and advancing the legal profession.
Judge Sasser's passion for the law was only surpassed by her fierce devotion to, and love for, her family. They were the top priority in her world and she supported them in every way. She was known for her fierce and unrelenting spirit, her drive to be fair and just, and her love for life. These traits were ever-present, until her last breath.
To download The Meenu Sasser Family Scholarship Application click here.