Deadline for sponsorships and advertisements is January 29, 2024
We thank you for your interest in sponsoring the APABA 20th Anniversary Scholarship, Awards, and Installation Gala. We anticipate hosting more than 200 attendees, including members of the federal and state judiciary, attorneys, in-house counsel, APIA leadership, and community members and leaders from across the state.
We invite you to join APABA's celebration by sponsoring at a contribution level or placing an advertisement in our event program. With your support, we can defray some of the costs of the event and work towards APABA's mission. Proceeds from the Gala will support APABA's programming and initiatives, including the Meenu Sasser Family Scholarship, which champions talented law students and is named in honor of the late Judge Meenu Talwar Sasser.
Support Levels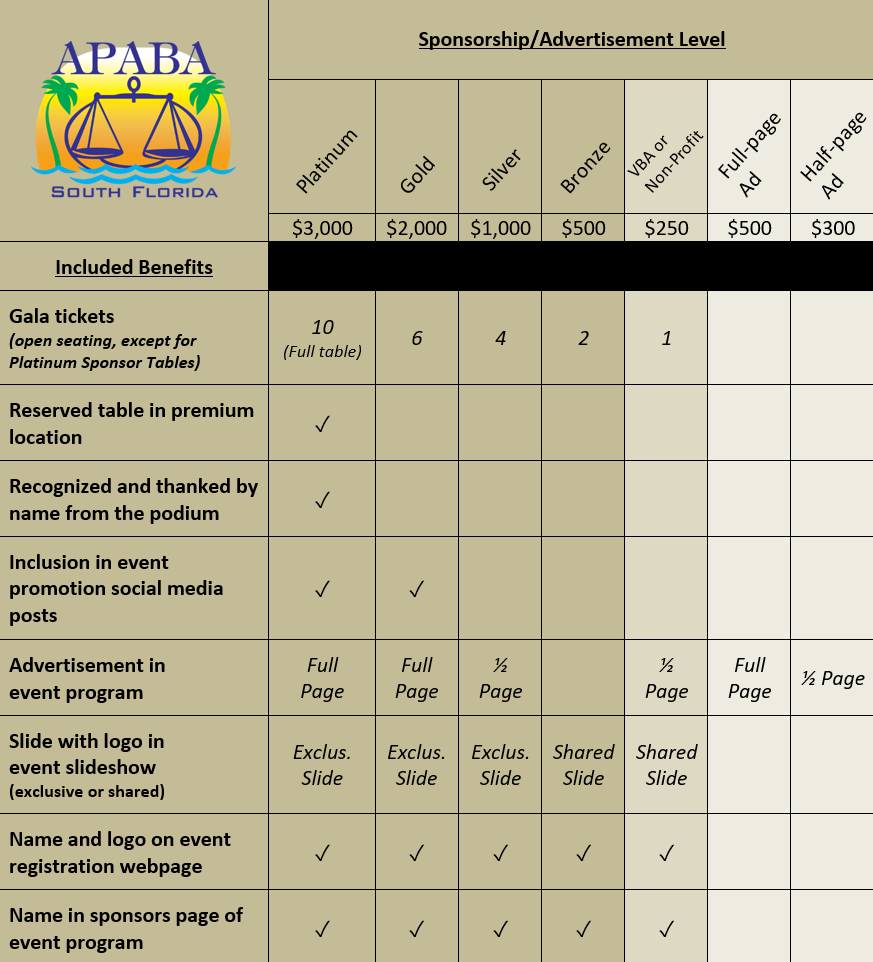 Platinum Sponsor – $3,000 – includes:
10 tickets (one full table)
Reserved table in premium location
Recognized and thanked by name from the podium
Inclusion in event promotion social media posts
Full-page advertisement in event program
Exclusive slide with logo in event slideshow
Name and logo on event registration webpage
Name in sponsors page of event program
Gold Sponsor – $2,000 – includes:
6 tickets
Inclusion in event promotion social media posts
Full-page advertisement in event program
Exclusive slide with logo in event slideshow
Name and logo on event registration webpage
Name in sponsors page of event program
Silver Sponsor – $1,000 – includes:
4 tickets
Half-page advertisement in event program
Exclusive slide with logo in event slideshow
Name and logo on event registration webpage
Name in sponsors page of event program
Bronze Sponsor – $500 – includes:
2 tickets
Shared slide with logo in event slideshow
Name and logo on event registration webpage
Name in sponsors page of event program
Voluntary Bar & Non-Profit Sponsor – $250 – includes:
(Only available to Voluntary Bar Associations and Non-Profit Organizations)
1 Ticket
Half-page advertisement in event program
Shared slide with logo in event slideshow
Name and logo on event registration page
Name in sponsors page of event program
Advertisement Supporter (full page) – $500 – includes:
Full-page advertisement in event program
8.5 (height) x 5.5 (width) inches
Advertisement Supporter (half page) – $300 – includes:
Half-page advertisement in event program
4.25 (height) x 5.5 (width) inches
*** To purchase tickets for this event or secure additional seats, please click here. ***